Tim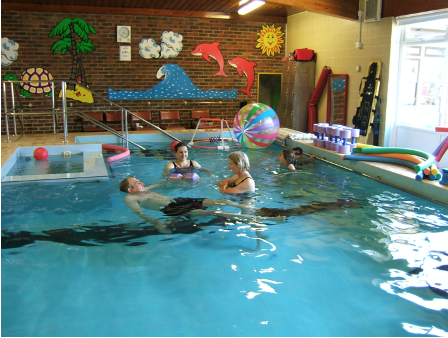 On 24th July, St George's welcomed its 2000th self-referring customers - Louis and Olivia Webster-Brawn.
Owing to the summer holidays, nine-year-old Louis and seven-year-old Olivia were accompanying their mother Sarah, and uncle, Tim Brawn, into the pool for the first time.
Tim and Sarah (Tim's sister who acts as his carer during these visits) are familiar faces at St George's as they have been regularly using the pool since the start of the year.
In May 2013, Tim was single-handedly managing the family's 400-hectare (just under 1000 acres) arable farm in Alconbury, when he suffered a major stroke. This was followed by a further stroke in hospital. Sarah describes the strokes as life threatening; the family were not sure if Tim would pull through - but he did. However, the strokes left him with severe left-sided upper and lower limb weakness and balance difficulties. Tim spent four and a half months in hospital but left in a weak state.
It was only later that a Consultant Orthotist at Hinchingbrooke Hospital called Chris Bracknell suggested hydrotherapy as treatment. Chris had received hydrotherapy himself some years earlier after a motorbike accident and thought it would benefit Tim.
In late January, Tim, accompanied by Sarah, arrived at St George's for the first time. They started with one private session with aquatic physiotherapist Patricia Baker every week. By March, Tim had made progress and gained enough confidence and strength to enable the pair to come twice a week: a private session with Pat but also a public session. In fact, hydrotherapy came to play such a critical role in Tim's rehabilitation that family say that they now base their entire week around their sessions at St George's; all other appointments have to fit around these. Sarah feels that her brother has made more progress in the past six months since he has begun hydrotherapy than he appeared to make in the first few months after his stroke, a time when faster progress is normally expected. When Tim started, he required a great deal of support and was wholly dependent on flotation aids. However, since beginning aquatic physiotherapy he has gained movement in his left leg and improved strength and movement in his left arm, with which he can now reach out. He has now progressed to the point where he can swim independently too. Tim has continued to work on his land-based physiotherapy but explains that he has encountered problems when attempting to weight bear. This has caused a painful problem in his left knee. He says, "It is so much easier and less painful when attempting this in the warm water." Both would definitely recommend hydrotherapy at St George's. Sarah says, "This is an excellent place to come and improve mobility. We have found it very useful. The staff are all so helpful; they are hands-on and cope with such a wide range of users yet still manage to give the personal touch."
Tim is currently missing the harvesting but hopes that he will be able to assist next year. We are sure everyone reading this would like to wish him and his family well.
Pat says, "Tim has improved over the last 3 months not only physically but mentally. He gained great strength and confidence by using the principles of water to help him adjust to his new balance and new functional movements that the stroke has left him with. He really enjoys the freedom that the pool can offer him and he always leaves with a huge grin from the achievements he has made with each session. With the encouragement of all the staff and his magical family support, Tim has come a long way. I hope he continues to improve."