Geoff's Story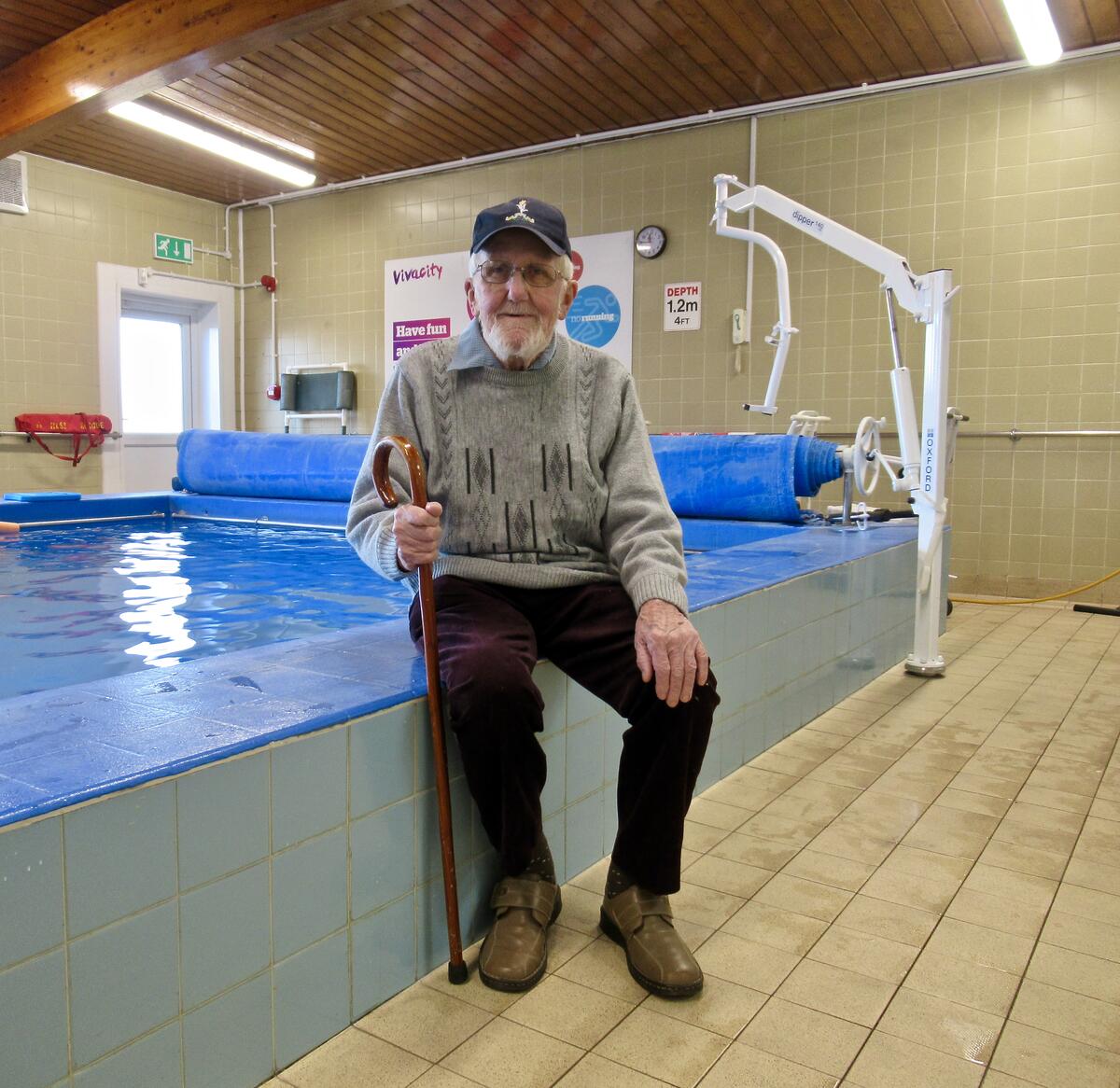 St George's Hydrotherapy User - Geoff
80-year-old St George's hydrotherapy user, Geoff Gardiner, describes himself as 'Peterbooorian', but of course, like so many customers, he has enjoyed a very eventful life.
National Service
Geoff, a retired British Telecoms Engineer, served a four-year engineering apprenticeship between the ages of 16-20 before being called for National Service. He was invited to be a British Army officer, but this meant he had to serve in England. Geoff had hopes of travelling somewhere far away and exotic, such as Singapore. However, he was posted to an RAF camp in Germany instead. There he served two years as a technician in the 'Air Formation Signals,' the unit responsible for communications.
Telecommunications – Peterborough
When Geoff was released from the army, he returned to telecommunications, then part of General Post Office – the GPO. Firstly, working on some 'special operations', and then being responsible for installing the telephone systems for some notable local businesses such as Christian Salvesen, Pedigree Petfoods and McCain Foods. When Cambridgeshire's Fire Chief saw his modernization of the local Ambulance Service's controls, he invited him to do the same for the Fire Service, which included St George's neighbour, Dogsthorpe Fire Station!
Retirement
When Geoff was offered early retirement in 1992, he with his wife Margaret jumped at the chance – they had so many things they wanted to do. As well as holidays – including a chalet, a caravan, and some boats of their own - they enjoyed supporting local charities. Geoff and Margaret joined Peterborough's Royal Signals Association where Geoff has been the Chairman for the past eight years
Health
Ten years ago, Geoff was diagnosed with prostrate cancer. This was treated with radiotherapy and he went into remission. He had previously been successfully treated for skin cancer. Seven years ago, he suffered a double brain haemorrhage. Margaret says, "He could not remember; he could not walk." Geoff required a five-hour operation at Addenbrooke's. When he woke up he says, 'It was like someone had switched the light on.' He learned to walk again. Last year Geoff developed a painful left hip and knee. He put it down to arthritis but his consultant confirmed that the cancer had spread to his bones. His oncology team determined they would do all they could to keep him as comfortable as possible.
St George's
It was Geoff's Macmillan Cancer Nurse, Rachel, who suggested he tried St George's. He and Margaret knew of the hydrotherapy pool but did not know how it 'worked' and whether he could access it. Geoff and Margaret describe Rachel's support as 'marvellous.' She made all the enquiries and completed Geoff's self-referral form on his behalf. This was nearly a year ago.
Geoff's Monday morning public hydrotherapy session is now an integral part of his week. It's important to his health and wellbeing. Geoff says, "It's fantastic, I could stay in the water all week! When in the pool you haven't got the weight on your painful joints – and it's so friendly." Margaret who supports poolside agrees. She says, "Geoff is always well looked after when he comes to St George's." She says all the other users are so mindful and accommodating too. This helps her to support Geoff in the changing room with his dressing. Both she and Geoff say they would definitely recommend the hydrotherapy pool to anyone in a similar situation.
We would like to thank Geoff and Margaret for generously sharing their story in the hope it can help others.