Sarah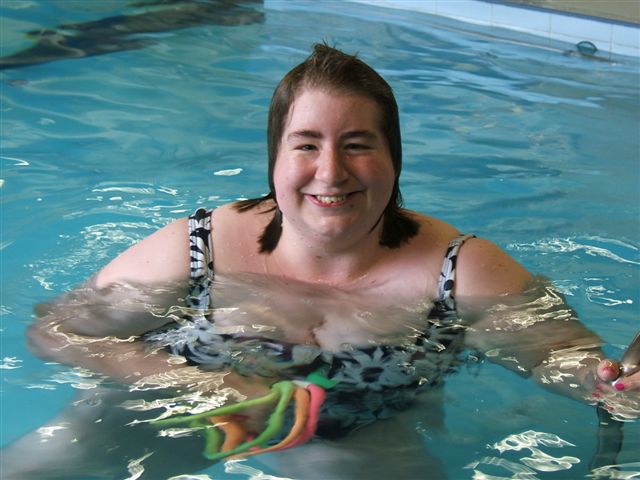 Sarah - You only have to see the smile on Sarah's face to know how very much she loves swimming at St George's.
Sarah is one of 50 adults from a supported living or care home who attend St George's every week.
Sarah's home, Laurel House, is a supported living home run by Positive Steps, a local company that provides placements for children and young adults with learning difficulties. She shares her home with seven other service users and 4-6 members of staff. Shannon, Sarah's key worker says, "We live as family - we share - it's a real home." Promoting independence and self worth is a priority and the work of the house is divided up. Sarah has a number of jobs for which she is responsible. Her favourites include tidying her own room - in which she takes great pride - vacuuming, drying the dishes, baking, and ironing. Of course, leisure is also important and there is nothing more important to Sarah than her swimming…
Sarah has a complex genetic condition that has not been fully diagnosed and probably autism. She has physical problems, which cause some difficulty with walking and has no verbal communication although she can use some Makaton signs and symbols. Sarah's mum taught her to swim when she was two and she can swim up to a mile. Shannon says, "Swimming is very simply one of the main things in her life. It is 100% important. It's her favourite hobby and a main way for her to exercise, to keep healthy, and to relax." Shannon and fellow support worker, Agie, explain, "We can't tell Sarah that she is coming to the pool in advance because she gets just so excited."
Sarah began attending public sessions when St George's opened in 2011 and she has been coming, with her support workers, regularly ever since. Other pools are not always appropriate for her needs and can make her anxious. However, St George's staff and users understand. Sarah attends either twice a week, or once a week if there is a trip to the cinema. She is a very familiar and popular user who is always extremely friendly and polite. Those of us who have enjoyed sharing sessions with her during this time have delighted in her blossoming confidence and her obvious joy at the thrill, freedom, and accomplishment that she gains when swimming, using various strokes, or elegantly performing challenging under water tasks. Sarah likes to finish her session with some relaxation in the spa.
Shannon would definitely recommend St George's. She says, "Sarah never goes without when she comes here." She thinks that it is during her time in the water that Sarah probably experiences the most independence in her life.

We would like to thank Positive Steps and Sarah's parents for generously agreeing to share her special story but most of all to Sarah, for brightening St George's with her warmth, smile, and charm, and for being such an education and inspiration to others.