Jan Roughton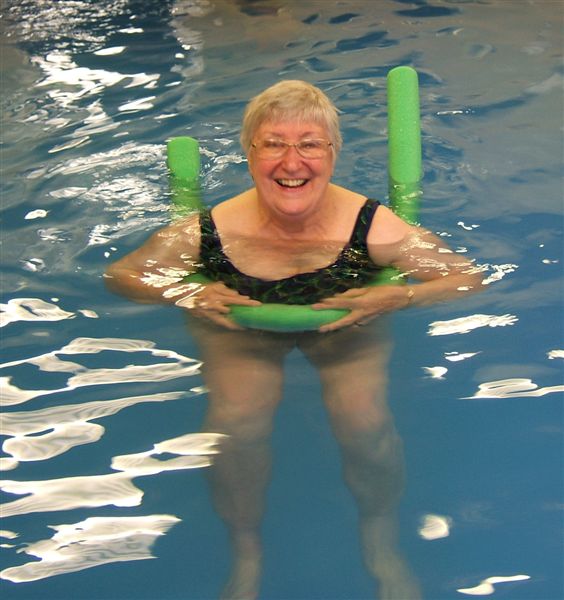 After my break in Normandy came St George's Community Hydrotherapy Pool
"I am a lady getting on in years, not quite in the dotage yet, but well on the way!
Two years ago, I was in Normandy France for a holiday when suddenly my leg gave way and I had a multiple fracture of the ankle and leg. I was taken to and spent the rest of my holiday in a French hospital (not to be recommended) although I had excellent treatment. There I was pinned and plated and eventually came home to the UK where the hard work started to get back on my feet.
I discovered during my treatment and weeks of hard physio, I have quite severe osteoporosis and osteoarthritis, being prescribed quite a few medications for the said conditions. I also - not prescribed - gained an awful amount of unwanted weight with the inactivity as I was unable to do my usual activities of gardening, walking, going out on my cycle and swimming. I had resolved to a Zimmer and a mobility scooter.
After months of physiotherapy and getting bigger by the week I decided something had to change, I used the swimming pool in our local area which had Roman steps to get in so was easy access. However, we moved house to Peterborough and none of the pools in the area was suitable for me - I could get in but not out.
I was introduced to St George's Community Hydrotherapy Pool - what a find! I started a reducing diet and made an appointment to have an introduction to the pool. After meeting the staff and being made welcome, I have not looked back. The pool water is warm and lovely 36 to 37 degrees and not too deep. If the confidence isn't quite what it was, the staff are on hand all the time. There is a hoist to help if disabled, and access to the pool is graduated and easy to both get in and out. I also joined the aquafit class twice a week to help my activity. Exercises, which I couldn't possibly, do out of the water, I find easy in the pool. A physiotherapist is available, if required, to assist your exercise programme. There are plenty of aids available to use in the pool too.
During the past months since I was introduced to St George's I have lost 11 kg, reduced my medication to practically nothing and I am walking without a Zimmer frame. Sometimes I use a walking stick outside. My confidence has returned, I've met new friends and socially find it a pleasure to visit this lovely little warm pool.
If it's an Olympic style pool with mega facilities. St George's is not for you. But if you have, or don't have a disability or health condition of some kind, or if you just need to meet friendly people in a warm and sociable community - come and join St George's! You will be made welcome, I'm sure of that. You'll enjoy a time of relaxation and do exercises to suit yourself. I did and the benefits are, for me anyway, quite beyond my expectation."