Sophie Utting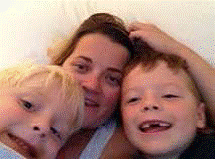 Sophie Utting
Within just a couple weeks of starting hydrotherapy at St George's, Sophie Utting began to make a remarkable recovery from major hip surgery.
The 34-year-old mother of two, who works as a medical practice manager, is so passionate about St George's and the benefits hydrotherapy can bring, she was willing to share her very personal story.
Sophie's problems first appeared at the birth of her two sons: Archie seven and Charlie four. Both deliveries were difficult and so painful that she required caesarean sections. However, her problems continued and during the following months, she was in so much pain that she was unable to walk. Over the next three years there followed a number of referrals to various back specialists until finally it was discovered that she had previously undiagnosed bilateral hip dysplasia, a congenital condition where there is deformation or misalignment of the hip joint.
Sophie was referred to a leading orthopaedic hip specialist who decided that she required a preventative and corrective operation on her right hip called a periacetabular osteotomy. In this, the pelvis is cut, realigned and then pinned in place so it is in a better position to cover the ball of the hip joint called the femoral head. In Sophie's case, the right side of her pelvis needed to be broken in three places to achieve this.
The full rehabilitation time from this surgery is normally around six months. However, at the end of this time, and despite extensive physiotherapy, Sophie was in still in enormous pain, unable to walk and her planned return to work had been unsuccessful. She had also begun to shake. "It was unbearable; nothing helped," she says.
After eight months, when there had still been no improvement despite a steroid injection, the family in desperation sought a second orthopaedic opinion. It was only then the reason for her distress was discovered: Sophie had been attempting to walk with broken bones; she was shaking because her body had gone into physical shock.
It seems the realignment of the hip had been so great it had left her pelvis unstable. This meant her first attempts at weight bearing had caused a stress great enough to break her pelvis in two new places as well as the femoral head. She now had four unhealed fractures.
There was no alternative but for her new surgeon to pin and plate the breaks. This required three plates and eight pins. However, Sophie says, "Within two weeks I knew things were mending." Her surgeon, a Cambridge Orthopaedic Consultant, immediately advised hydrotherapy and suggested Addenbrooke's pool. But for Sophie, unable to sit normally and unable to sustain a position for more than 20 minutes, this simply was not possible; she realized travelling to a pool in Cambridge was too far to be of benefit. Therefore, she set about searching the internet to see if she could find a local one, and that is how she found St George's.
Sophie first entered St George's pool exactly three weeks after surgery and everyone – including her consultant - has acknowledged that her recovery has been truly remarkable. She first came in using a wheelchair and says, "It took me so long to get into the water. My mum who came with me, was so worried… I had three exercises; I could do none of them on land, but by the end of my second session in the pool I could do them all in the water." Sophie came twice to the pool the first week and three times the second week. At the end of this, she was able to walk in using crutches. By the sixth week, she was finding her hydrotherapy so beneficial she was attending the pool five times a week. Six weeks to the day after surgery Sophie walked into St George's unaided. It was thrilling moment for everyone.
It is now eight weeks since surgery and she is attends the pool six times a week. What makes this even more remarkable is that Sophie travels from Rutland! "From the very beginning hydrotherapy has taken my stiffness away. It is noticeable if I do not have a session in the pool; it's so different; my pain and stiffness certainly increase. It has also really helped with my strength. I have not had the same muscle wastage in my leg. I am now even starting to recover the wastage that followed the first operation. I can now lift my leg to 45º and I have not been able to do that for the past four years." She says using the different depths of water enabled her to start walking; firstly in deep water and then progressing to shallower depths. "My consultant agrees that walking and exercising in the water has got me to this juncture so quickly. He wants me to continue with it as I now have arthritis in my back and because I have made such amazing progress. He says swimming alone would not have been so beneficial. I have been off work for a year now. I am in now in the best position to return once my consultant gives me the OK thanks to hydrotherapy."