June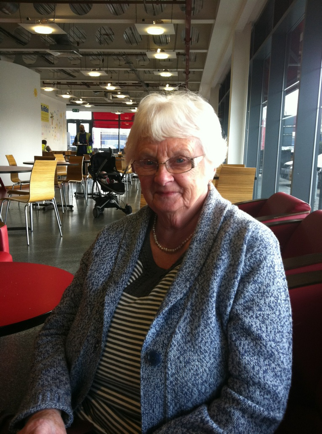 Message from St George's Hydrotherapy User - June
June, who is well into her 80s, began attending the hydrotherapy pool following a shoulder problem that developed from a broken wrist.
June's son Ian suggested that she try St George's. Ian and his wife Chris have a long-standing interest and knowledge in hydrotherapy. This is because Ian works at 49 Lincoln Road, a drop-in centre for adults with a learning disability, while Chris is an officer at the Kingfisher Day Centre, which supports adults with a learning and physical disability. Both Ian and Chris recognize and understand the many benefits that hydrotherapy can bring and have given very valuable support to St George's ever since it opened in 2011. The Kingfisher Centre has continuously used the pool over the past four years. Therefore, support for the service is very much a Worley family affair!
June has always enjoyed being active and as well helping the pool whenever she can – June's fundraising sausage rolls are legendary – she volunteered at Sailability. Her late husband learned to sail solo at the centre aged 80 and she has been a loyal volunteer since becoming a widow four years ago. June also enjoys writing. Here is her eloquent testament to St George's Community Hydrotherapy Pool.
"

For those people who are feeling low and worried after being discharged from hospital, there is light at the end of the tunnel.  The hospital do a good job but particularly for those people living on their own they do need to be able to be self sufficient in their own homes.  Just go along or phone the hydrotherapy pool and discuss your mobility problems with the staff, and make a start on improving your mobility. There is an excellent physiotherapist available to get you started on a course of exercises designed for your own needs.  Then it is up to you to put as much effort as you can in carrying out these exercises in the lovely warm water in a relaxed atmosphere. The pool is still open due to the band of very dedicated helpful volunteers who do arrange all sorts of fund raising events, to provide money to improve the facilities at the pool.  These would not be possible without the help that comes from all sorts of avenues. The message I am endeavouring to get over is that the pool is there to help everyone - for the elderly it could mean staying in your own home, for the disabled who are being looked after by carers, it provides a very beneficial aid to improve the quality of their lives. This all takes place in a very friendly atmosphere. Finally for those of you who have benefitted from using the Hydrotherapy Pool, please just SPREAD the word that help is available in Peterborough and district.

"

June, a very satisfied user of the hydrotherapy pool