Charlotte's Story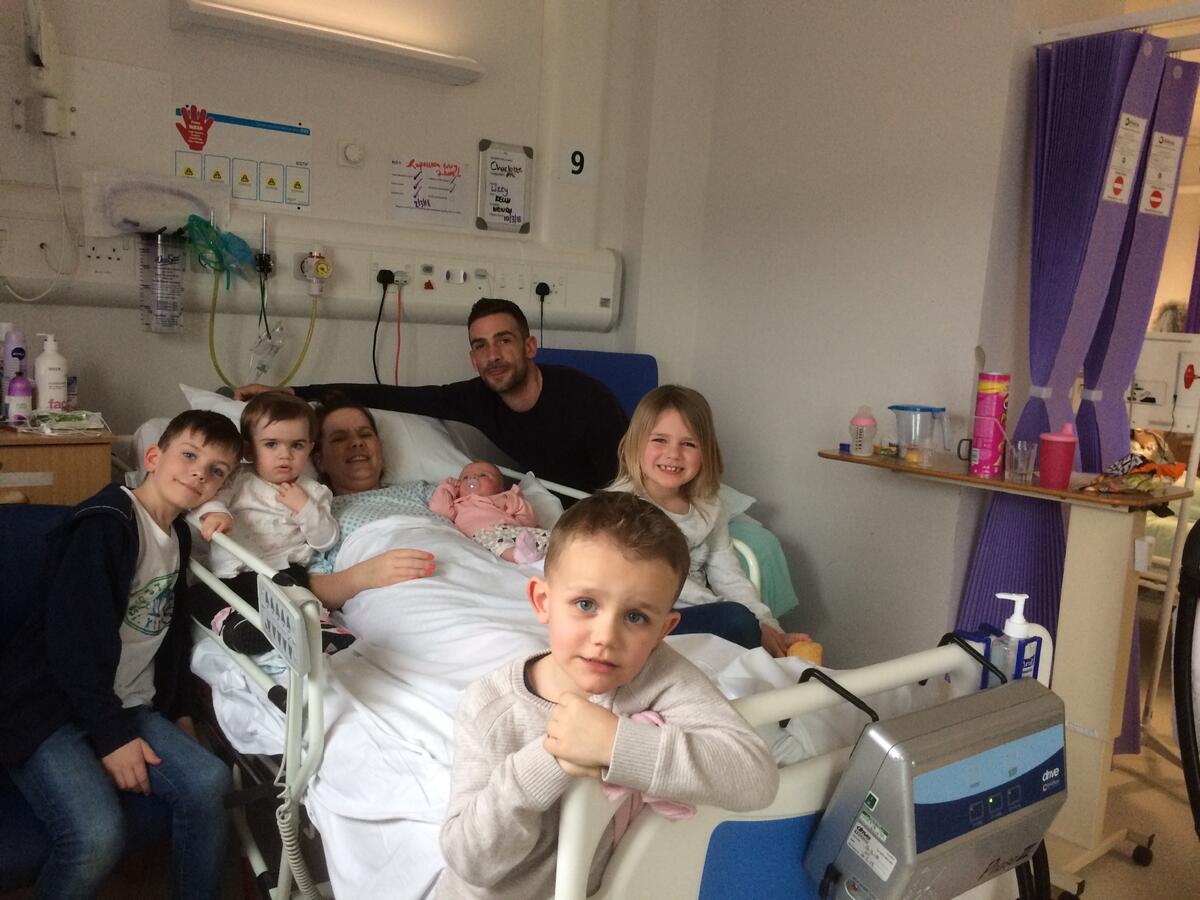 Charlotte's Story
28-year-old Charlotte, a mother of five from Deeping, tells of her terrifying ordeal which left her paralysed following the birth of her daughter, and how hydrotherapy at St George's helped her get back on her feet.
Critical Illness
In January 2018, Charlotte gave birth to her fifth child, Darcey. It was by natural delivery in hospital. Charlotte had not had problems before and there were no indications that there would be any this time.
However, following the birth she found herself in the most terrible pain. She was given pain relief and sent home the next day. Nevertheless, the pain intensified, "It was agony," she says. On the third day, she was so unwell and weak, realizing that something was very seriously wrong, Charlotte's worried partner Phil called for an ambulance.
Charlotte was rushed to intensive care. It was found Group A Streptococcus (GAS) bacteria had caused severe sepsis. 'Sepsis is the body's overwhelming and life-threatening response to an infection.' (The UK Sepsis Trust).
Her condition was so serious that she was placed in a coma.
Nevertheless, in intensive care, Charlotte's condition continued to deteriorate. Now with pneumonia and multiple organ failure, her only chance of survival was to be transferred a specialist hospital so that she could go on an ECMO (Extracorporeal Membrane Oxygenation) life-support machine. This pumped and oxygenated her blood outside her body, allowing her heart and lungs to rest.
It saved her life. Charlotte responded well and after three days, she was able to come off the machine. .
However, to Charlotte's horror, as she started to come to her senses, she realized that she was paralysed from the neck down, unable to move her limbs.
Heavily medicated, and undergoing various surgeries Charlotte remained at the specialist unit two more weeks before she was able to be return to her local hospital for further 1:1 intensive care. Throughout these three weeks, visits from her family were strictly limited. It's from her family that she knows what happened during this time. It was not until March when she was transferred to a renal ward for her damaged kidneys, she was finally able see baby Darcey again. Charlotte had barely seen Darcey since she'd been born. Heartbreakingly, she was too weak to hold her…
To find the cause of the paralysis Charlotte underwent tests at a third hospital. These showed critical illness neuropathy: a disease of the nerves that occurs as a complication of severe infection and being in intensive care.
Charlotte was transferred neurological rehabilitation ward in Lincoln at the end of March.
Rehabilitation
There Charlotte began daily physiotherapy. She began to gain some use in her arms and was able to place a little weight on her legs with the aid of a standing hoist. She was finally able to hold baby Darcey in her arms. "It was amazing."
After two months, Charlotte was desperate to return home to be with her family. She felt she would make more progress there. Her medical team consented.
On arriving home at the end of May, Charlotte could move her arms and legs a little. * Phil gave up work as a self-employed paver to care for the family and her mum came every day. "Everyone was marvellous," she says.
With a great deal of assistance (the house became filled with equipment and aids), she was able to transfer and to stand. Charlotte says, "It was back at home that my rehabilitation really started."
An NHS physiotherapist visited Charlotte's at home every two weeks and she was very keen to try hydrotherapy. Charlotte and her family knew of St George's because, very sadly, in 2001 her brother had used the pool as part of his sensory and palliative care, before he died.
Charlotte started hydrotherapy at St George's in June. "I was so weak we all wondered how I would ever manage." However, the staff's support, and Phil being able to get in the pool with Charlotte, greatly helped. "Everyone was so friendly and welcoming. Nothing was too much trouble," she says.
The buoyancy and warmth of the water increased Charlotte's ability to exercise and grow stronger. She progressed from going once to three times a week. "I couldn't wait to get there."
Her NHS physiotherapist could see the improvements each time he visited and was delighted.
Charlotte says that being in the water started her walking. At St George's, she took her first steps unaided.
It was also at the pool that Charlotte managed her first set of stairs on her own - all critical moments in her recovery.
She says that her doctor would never have allowed her to use a normal swimming pool because the water would be too cold for her low kidney function.
By September, Charlotte was strong enough to add land-based exercises at her local gym to her recovery programme.
Moving forwards
Charlotte has continued to work extremely hard at her rehabilitation - at home, at the gym and in the pool. She says her regular hydro sessions are very important and when possible, her children love to come. It's the only time she can lift and hold them herself. This is very special for them all.
Charlotte is now able to walk around the house unaided although she says, "It's a bit like a toddler sometimes."
Moreover, there is more good news: Phil has just returned to work; the couple plan to marry in August, and Charlotte will soon be able to start driving again. This will greatly help her independence as a busy young mum.
We'd like to thank Charlotte for courageously sharing what has been such a traumatic time for her and her family.
She says to any mums in a similar position, "You know your own body, find your voice, please make sure you are heard."
She would also like to her story to raise awareness of sepsis and its symptoms. For further information, please see - https://www.nhs.uk/conditions/sepsis/
And finally, we wanted to give the last word to Charlotte. This is what she said:
"The hydro pool as been a huge part of my recovery, from being able to walk unaided in the pool, to gaining strength, and then be able to walk up and down the stairs. The pool has enabled me to do things that wasn't at the time possible for me to do on dry land. When my children come in the pool with me, it's magical to us for me be able to carry them again and have great fun in the warm water without physical problems getting in the way. It is worth every penny, I feel very fortunate that the reasonable, affordable price, allows me to use the hydro pool a few times a week. The staff are very helpful and amazing they make everything possible with their fantastic, positive attitude.
I would highly recommend St George's hydro pool, it's been a dream come true to be able to progress so quickly."