Connor Ruddell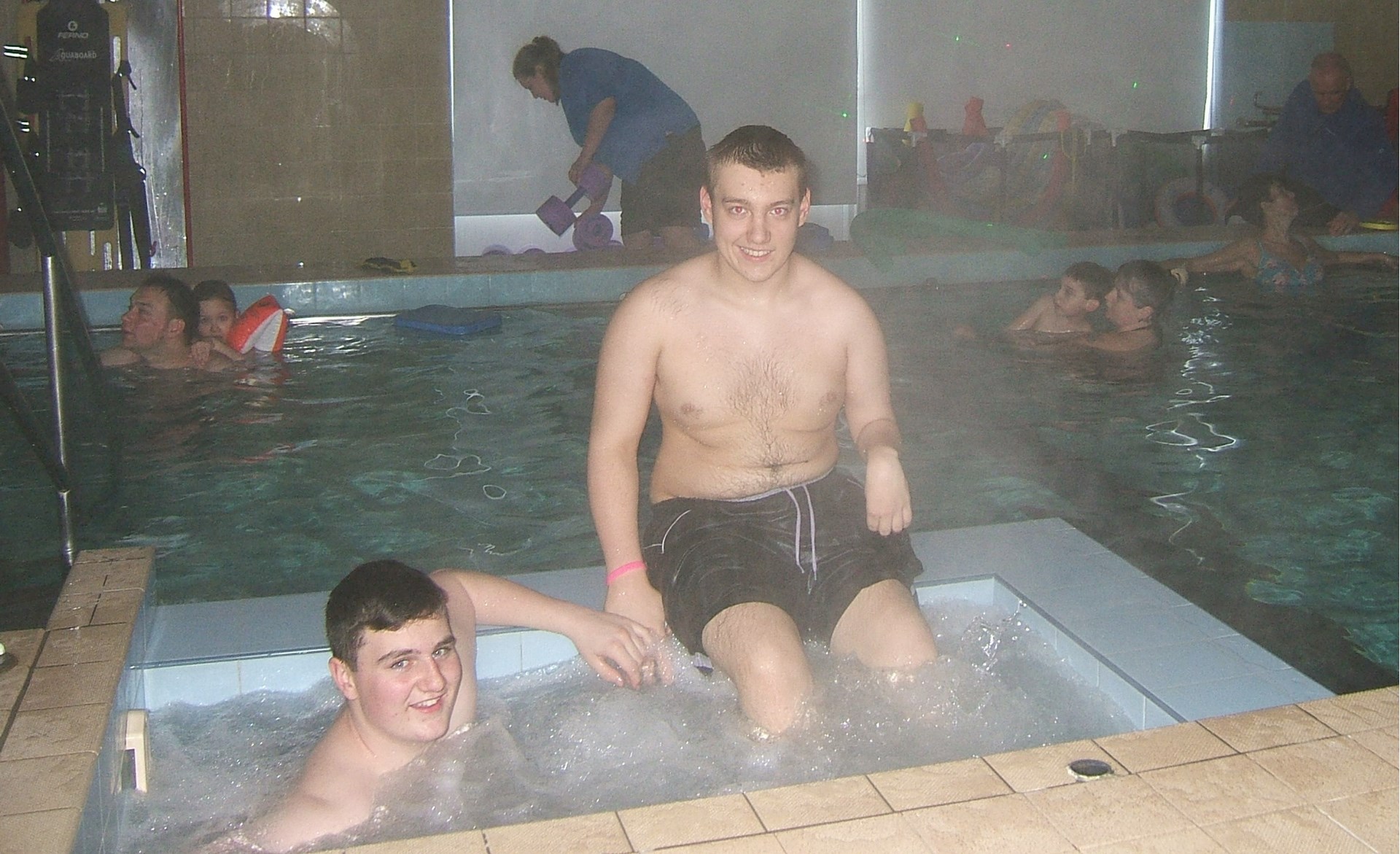 Connor Ruddell.
One of the most striking features about St George's, and its users, is the enormous capacity for generosity and caring for others that so many families show despite their own problems.
One example is the Ruddell family from Farcet. Will, Zoe, and their son Connor first heard about St George's when they visited the pool's stand at 'Feel the Force Day' in October. Connor, aged 15, is a pupil at Samuel Pepys School in St Neots, which provides specialist education for a wide range of special educational needs.
The family were immediately excited and enthused at the prospect of being able to use St George's pool. Connor enjoys hydrotherapy at school, so the family were keen to find somewhere where Connor could exercise, socialize, and enjoy his favourite sensory experiences at other times. Connor, who immediately strikes as a most delightfully engaging, vivacious and friendly young man, has a deep knowledge and enthusiasm for optikinetics - the various projected light effects that are used in sensory pool sessions.
Even before Connor had started sessions at St George's, he and his mum Zoe were generously sharing their lighting and sensory knowledge and experience for the benefit of the pool and its users. Not only did Zoe come to the pool to offer her expertise, but she also brought equipment for the pool to try.
The family immediately donated a rotator for St George's projector. This enables the pool to project 'effect wheels', which make light pictures, and 'effect cassettes', which create light patterns. The family also very kindly loaned one of these. Such is the immense kindness, generosity, and good will towards the facility - typical of St George's users – that they even offered to purchase a laser. Grateful for Zoe's advice, the Friends of St George's were delighted to buy a morphing one, where the various lighting effects change to music. If you have not seen the laser in action, please ask – it's great fun for everyone!
What makes their generosity, kindness and support even more remarkable is that the Ruddell family are occupied by difficulties that only those who similarly care for a family member requiring such level of constant care and attention, can probably understand.
Connor's health problems started at age four months when he began to have seizures. These become so severe that at six months he was referred to Great Ormond Street Hospital. It was here, when aged 11 months, the decision was made to perform a hemispherectomy. This is a rare surgical procedure, used to treat epilepsy. In Connor's case, this resulted in the disconnection of half his brain and the removal of a third.
As a result, Connor was seizure free but the medical prognosis was that Connor would be unlikely to learn to walk or talk.
All hemispherectomy patients suffer at least some weakness or paralysis on the side of the body (hemiplegia) opposite to the removed portion of the brain and often visual impairment too. Connor had both. He was left with deep left sided hemiplegia and a serious visual impairment. However, he and his family were resilient. He began to learn Mackaton, a language programme that uses signs and symbols to help people communicate. Nonetheless, despite a number of other serious health complications, at age two and a half Connor began to walk and at five he began to talk.
However, distressingly, it was at this age that the seizures returned. Over time, these seizures have become more severe and more common; the anticonvulsant drugs able to control them have become exhausted. This means that the family need to be on a constant vigil to ensure that Connor is safe.
If this was not enough, there have been other difficulties too. Connor's mobility has deteriorated, requiring him to undergo corrective orthopaedic surgery at Addenbrooke's Hospital. He now requires a wheelchair when outside. The family also noticed Connor's intense fascinations with specific things. At first, it was vacuum cleaners and then it was tractor chimneys. At age 11, five years after Connor had begun to display these signs, he was diagnosed with autism.
Connor now has a profound interest and great knowledge of projected light effects. He even has a very impressive sensory room of his own at home.
Connor now loves attending St George's when it he is not at school. It is a vital but enjoyable means of exercise, relaxation, and socialization for him. He often comes with his cousins Joe and Josh. As well as his favourite sensory experiences - the music and lights - he also enjoys the 'lovely warm spa with all the bubbles.' He and Joe have even joined in Tara's aquafit class. Tara says, "Connor is an upbeat and happy individual who enjoys the pool. And well, when it comes to the sensory lights I have never met a person so passionate about them. He is great person to be around."
Indeed, Connor is surrounded by group of loving family and friends. Eighteen of these have undergone epilepsy training so that they can administer emergency medication, if necessary. They enjoy variety of activities together including swimming, go-karting and visiting theme parks. Both sets of grandparents are involved in helping to care for Connor to try to give some respite for Zoe and Will. Zoe's parents have recently moved to be closer at hand.
We would like to thank the Ruddell family for all their support and so generously sharing their story. Families such as theirs endure, face with fortitude and deal with relentless and unimaginably difficult challenges every day. Each week, around 65 other young people under the age of 25 with complex needs, like Connor's, similarly enjoy and benefit from St George's.